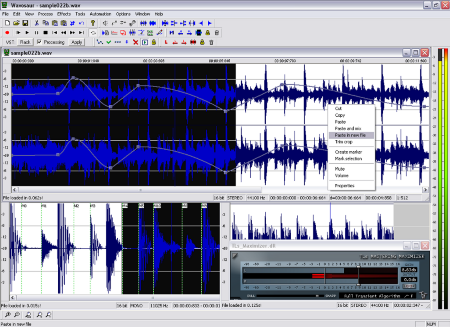 I have been using this neat bit of Windows audio editor software for some months - and it has now gone public and remains free with the following features
It does all that would want from a stereo editor including , audio editor, wav editor software for editing, processing and recording sounds, wav and mp3 files. Wavosaur has all the features to edit audio (cut, copy, paste, etc.) produce music loops, analyze, record, batch convert.
and has the following advantages which while not indivudually unique amount to a powerful package
1. It is a small 464mb in its unpacked state - so fits on my largely redundant 1 GB USB key drive - so can be used on any machine with a USB socket.
2. It supports VST plugins, ASIO driver, multichannel wav files, real time effect processing.
3. Because there is no installer it doesn't write anything to a host computer
4. It works on Windows XP, Vista and Windows 98 without special driver files
So if you are using or accessing lots of different machines it is a cool way of standardising these various functions.
The only thing really missing is that it does not work on Macs.
Details and downloads here