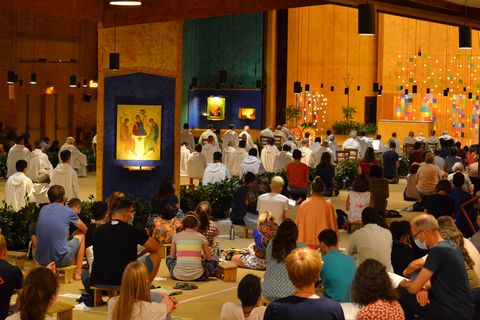 I have laid aside Common Worship Daily Prayer order for the duration of my sabbatical and moved back to my rather battered Taize Office Book "Praise in All our Days".
For people not familiar with the nature of Anglican priesthood the Daily Office has a dual integrity:
1. it is offered in a public Vicar type role (offered publicly, and often collectively with others, in the Church building and within the Church of England this practice is a requirement of the office of a Vicar or parish priest )
2. it is also offered as a personal commitment or discipline of being a priest - a reminder that as a priest we pray as would any other Christian, but also as part of the universal Church.
Changing the form of the office makes clear that for the time being it is the latter personal commitment which I am maintaining, while laying aside the public role as I have in all aspects of my ministry for the period of the sabbatical.
For people not familiar with the life of The Taize Community see here
A flavour of the office can be read online here.
The more contemporary form of the office can be purchased as Prayer for Each Day (ISBN: 1579990290. GIA Publications, Decani Music)
I have been using the Community's short daily readings for evening prayer for the past six years so there is a familiarity with the single verse approach.
But using the Taize Office feels like returning to familiar territory since I used this order throughout my ordination training and for Evening Prayer until a couple of years ago.
One of the features which really strikes me is how confidently religious the language is - it makes no pretence at accessibility - you have to understand/explore the language for it to have meaning.
To this I am adding the Daily Meditation each morning.
(I have offered this extended explanation because of some interesting overnight emails - most of them make reference to this US site Taize Exposed which many worldwide Christians will find intriguing - I had not realised that Taize was controversial in this way in the US.)