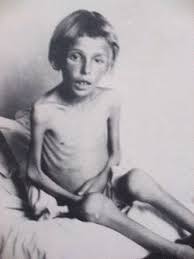 I haven't been watching it , but have thought that an awful lot of hot air has been generated about Big Brother. Catherine Pepinster however seemed to reach for the core reasons when she spoke on Thought for the Day. about the insights of Rene Girard.
As I work on a vigil on The Holcaust for Holocaust Day ( and I think it should be Holocausts Day) on Saturday then it rings true for how a people collectively can de-humanize themselves and their victims sufficiently to carry out these horrific corporate actions. I am aware in posting the photo that I cannot find anywhere this childs name - she is listed as " a victim"
I remember visting a memorial site in Germany where a poet had written that it had to be called "The Holcaust" for the time being until something worse happened, and that would be the time to decide whether it was "The Nazi Holocaust" or the " The Jewish Holocaust" - but in the meantime we hide behind "The Holocaust".
What has been interesting about connecting Girards insights to Big Brother is that in this case the "perpetrator" within the House, has become the "victim" when she was expelled.