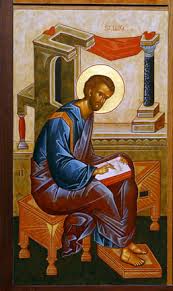 Today is the Feast Day of St Luke (- medic and friend of St Paul) who wrote Luke's Gospel and Acts of the Apostles. The Christian tradition has been immeasurably enriched by these two books of the Bible.
In the Anglican Daily Office we have been reading through Acts - it is the most extraordinary story of commitment and risk. The daily readings help me to recover the detail of what happened in the early Church - and challenge my perceptions.
Little phrases offer a new meaning and understanding. For example I had this image of St Paul as an itinerant missioner moving from the place to place founding and supporting the churches around the Mediterranean world - then Luke shatters that view with a simple addition of the worlds - "and Paul stayed there for two years" and his work was almost entirely outside the Church.
Equally easy to miss are the bits of the Gospel which are not stories but introductions or links. So this morning we read the first four verses of Luke's Gospel - and suddenly I heard those words of the very first verse " since many have undertaken to set down an orderly account". The key word there is "many" - not just a few select "gospel" writers of which we know ( canonical and non-canonical) but many - the same word ( polus)that one would use for "many" meaning a large crowd. it is these wide and varied sources which Luke then "investigates" to produce his magnus opus.
I ponder whether Luke had any idea as he set about the task of writing his "orderly account" for Theophilus, whether he could in his wildest dreams have imagined its subsequent significance. Yet he offered his insight, his imagination, and his skill to God in order to undertake this task, and we still gain the blessings.