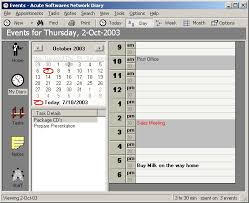 This week is another "half week" for a very good and proper reason. This is the week in the month when I take a weekend off (Thursday tea to Sunday 7am) which is vain attempt to recover sense and reality of leisure weekends - this being the thing which the family most miss since ordination. This weekend off is also our wedding anniversary so Anne and I are away for a break.
The issue is of course that despite support from others (so no preaching on Sunday etc) there still remains six days (and more) work to done, but only three and half days to do it in - plus there is the additional factor that cos people know that I cannot be contacted during the time we are away they email and ring now as if there were no tomorrow and despite the fact that most of things could be sorted Sunday, Monday next week. So the lead into the "weekend off" simply becomes more frantic than ever.
So full weeks are a good and desriable thing after all . . .